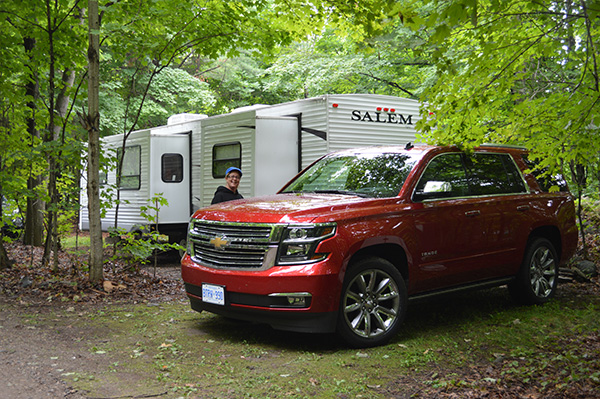 I grew up camping in Canada. The campgrounds I've frequented make you feel as though you are out in the middle of nowhere, communing with nature. You often can't even see your neighbours…although you can occasionally hear the noisy ones!
As a child, my family tent camped every summer, and I've travelled with my family from Ontario to British Columbia, sleeping in a different Provincial or National park each night. We used outhouses and pitched our tents each night along the way. It was exciting and fun.
I've never been a fan of outhouses. That was my only complaint about tenting as a kid. As an adult, the shine wore even thinner upon waking to snow covering the campsite in the Rockies, and the last straw was setting up tents by myself at Wheatley in the dark. Tenting lost its thrill for me. 
I will NEVER tent again.
But I just found out I still LOVE camping!
Last weekend I got to spend a night at Skycroft Campground on Opinicon Lake in Elgin, ON, thanks to my friends, Judi & Denise, who invited me along. I am on a road trip in a brand new  2015 fully loaded Tahoe. The media vehicle was loaned to me for the week so I could try out the OnStar services. Throughout my trip, I realized how much technology is helping me fall in love with camping again, and how my camping experience has been improved by just having access to the technology in the SUV. Well, technology and going without a tent. Imagine if we'd had a media vehicle way back when!
The trailer I stayed in during this camping trip not only had electricity, but it also had air conditioning and television…and INDOOR toilets! Remember when we used to have to buy an ice block every day to keep our food cool? Or dig a trench around our tent so our sleeping bags didn't get wet when it rained? Remember trying to cook on the fire in the rain? Although eating a bag of chips for dinner wasn't always a bad thing when we were kids!
I thought back to camping on Sunshine Key, Florida, in a pup tent with a beautiful view overlooking the ocean…until the torrential rain nearly washed us away. It would have been nice to crawl into the car and watch a video until it passed or even call OnStar and ask where the closest dry motel was located! Their new mapping system rocks! And now they even have a wifi hotspot in the USA!
I remember a time when my family came across a brush fire while camping in Muskoka. OnStar would have been able to help by sending back-up. We were fortunate. We were able to put it out by running buckets of water from the lake. Cell phones hadn't been invented yet!
What did we do if there was an emergency back then? We coped alone or found a pay phone. Even these days, cell phone service can be spotty out in the wilderness. At Skycroft, my mobile phone had zero reception but I knew we'd be okay because I could reach an OnStar operator in an emergency. When I tried it, their hands-free calling service worked, even when my cell phone didn't.
This August I'll be camping in Tofino, BC – in a trailer with wifi. I'm hoping to find a rental car with OnStar, so I can use their app to send routes to my car. It will work with the in-car navigation system or with turn-by-turn audio directions, and makes road trips a breeze.
I don't think technology could have saved me from snow, wet sleeping bags, or icky outhouses. I'm done tenting, for sure. The new technology is definitely putting a thrill into this fun, more comfortable Twenty-first century camping experience! I'm back in love with camping!