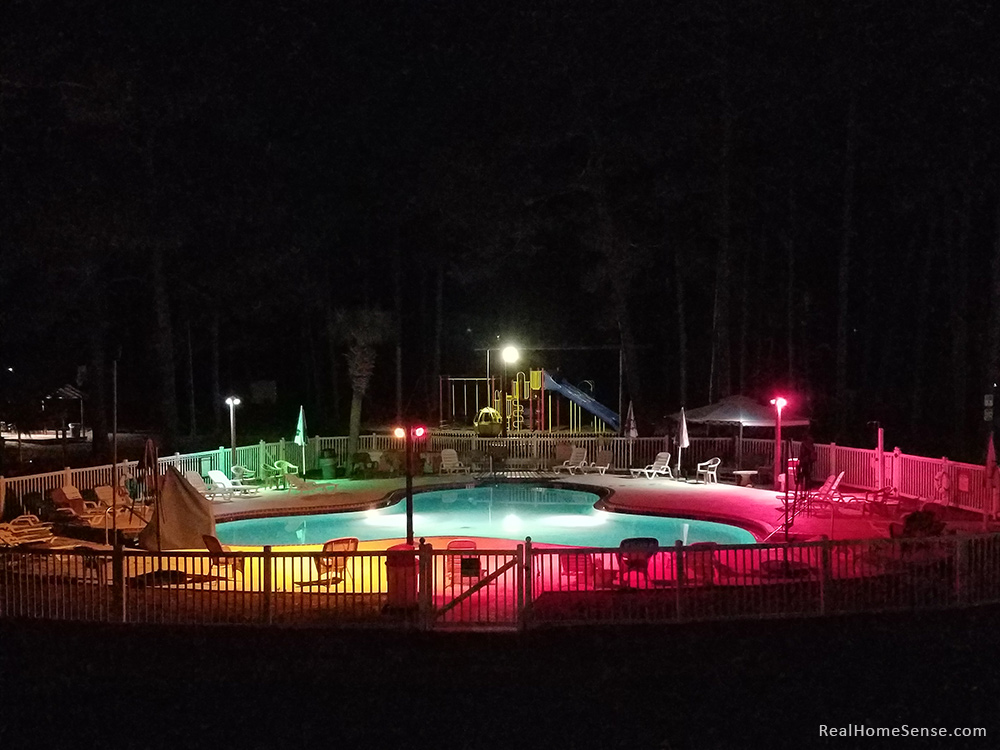 Sometimes the best laid plans get thrown out the window, and such was the case with an expected visit by Shawna and Alf to Richmond, VA. I was looking forward to seeing them for a quick one night stopover while they were enroute to a camping vacation on the Eastern Seaboard in North Carolina. They had their sights set on sandy beaches and nothing else mattered.
Until Matthew.
Hurricane Matthew roared up the Florida coast, dropped record rainfall, flooding North Carolina, causing road closures and extensive damage. Shawna and Alf drove to the Florida Panhandle instead. We never got our visit, but I did get a recommendation to a campground that sounded a little "interesting."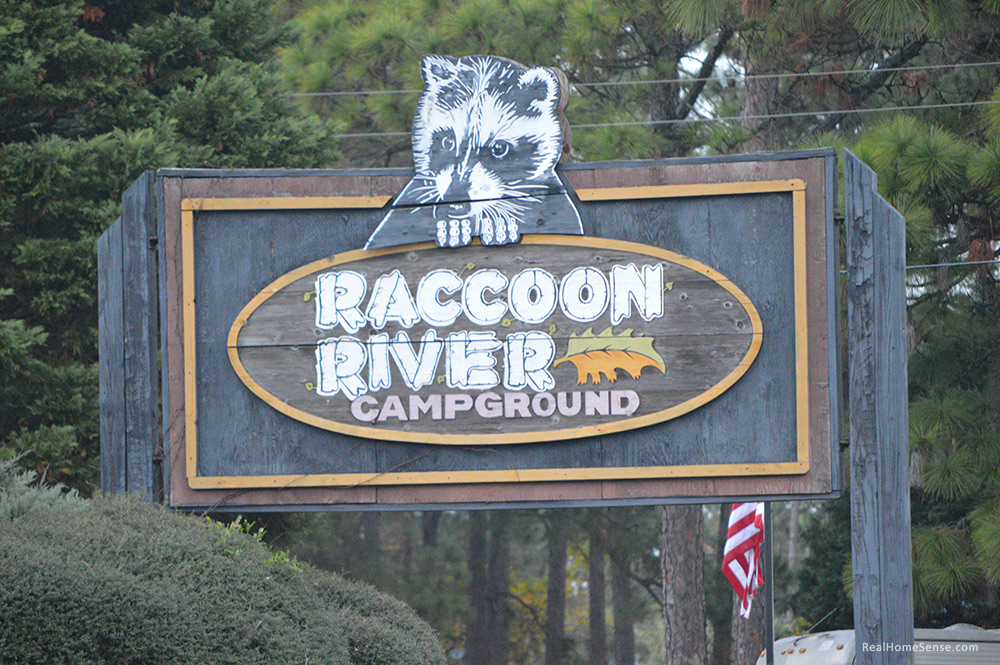 And by "interesting" I mean I wasn't quite sure what to expect except what was most important. It was a lot less expensive than the other campgrounds in the area, meaning I could afford to stay for a month, and it was within walking distance to the beach.
I pulled into Raccoon River and checked in. I was pleasantly surprised…. It looked much nicer than I expected with it's tall, long-needled pine trees offering plenty of shade, not one, but two in-ground pools with plenty of lounge chairs and nary a person present. The office and outbuildings were reminiscent of log cabins, the office a grander version of some of the homes I'd seen in the West Virginia mountains. It was rustic.
The campground was nowhere near capacity in December so the sites felt roomy and private.
The walk to the beach is full of interesting sights! A long, paved path also serves as an occasional access road that leads walkers through a forested area where exotic sounding birds made deep-throated calls to one another. If you aren't paying attention you'll miss the house nearly overrun with vegetation. A large plantation-style home sits opposite on the other side of the path.
As you exit onto Front Beach Road you are met full-face with worn tourist traps including a unique and whimsical mini golf course. Seeing the faces on the statues every morning brought a smile to my face before I crossed to the beach for my daily cleansing of the soul ritual. Unfortunately the course was closed for the season so I didn't get to play.
Not to be missed are the cats. If you're a little allergic or not fond of cats… this is NOT the place for you. There are cats everywhere! They congregate in groups planning world domination and seem to tolerate us humans…. But not enough to allow you to get close to them. The cats are more feral than domestic. The benefit of so many cats is that the mice and rats have probably packed their bags and moved out of the area… if they had a chance.
The sheer number of cats was curious enough, but the run-down nature of parts of the park made it even more questionable considering how friendly, attentive, and helpful the campground staff were.
There was the shaky looking suspension bridge strung across a small stream that had been closed. A fenced area across the front side of the campground that could easily have been opened as a paintball adventure with decrepit cement-style buildings and a giant cactus. An antique broken down car peeked from an old barn across an overgrown area in which cats sat languidly. The playground held some cool structures near what appeared to be a giant playhouse.
I mostly kept to myself, but on occasion I would chat with others and ask them about the campground and it's "real" story. Weaving together bits here and there I discovered an interesting family legacy that has had a large impact on the area and likely the whole of Panama City Beach.
The land and much of the area surrounded by the campground is owned by the Raccoon River family, as a matter of fact the patriarch designed the mini golf course himself and it is currently owned by one of his daughters. The plantation-style house was owned by the matriarch until her death not long before my stay. She was the cat lover in the family and found joy in rescuing many of the area's abandoned kitties. Word of her generosity grew and people began dropping off unwanted cats knowing they would not be put down. The campground staff fills large food cylinders every morning for the feline population and they take advantage of the low-cost neutering and spaying services but are limited as to how many monthly surgeries can be completed. I suspect there are more pregnancies than spaying per month but that is only an observational guess.
The most interesting part about Raccoon River is the history of the campground, which made me love its quirkiness all the more. Before being converted to a campground, it was an amusement park! The following is an excerpt from a Panama City Beach historical piece I found online:
"In the early 1960's, the Wild West was brought to Panama City Beach in the form of Petticoat Junction amusement park, named after the popular TV series, and Lee Koplin built Tombstone Territory, again named after a popular TV western. Both attractions involved train rides and Wild West themed entertainment.  Koplin also built Skyride, a gondola ride 100 feet high. This was an attraction, back in the day, simply because it was the highest view. The Skyride lost appeal as taller buildings and attractions came into play. Skyride was also put out of commission by Hurricane Eloise. Raccoon River Campground now occupies the land where Tombstone Territory and Skyride once flourished and is owned by Koplin's daughter.  In 1958 Mr. Koplin also built Goofy Golf, which is still open today. This mini-golf marvel is full of huge concrete fantasy figures and colorful scenery all designed by Koplin. Goofy Golf is also owned and operated by Koplin."
That paragraph explained the rustic buildings, the giant cactus, the playhouse which was actually the old train depot and the "cool structures" in the playground are repurposed cars from the Skyride.
I would happily stay at Raccoon River Campground when I am next in Panama City Beach.  The campground itself is very well maintained, common areas are very clean, the staff are incredibly helpful, and they even organize regular gatherings so campers can meet one another.  If you want to have a fire, just ask for a fire ring and if you have an issue with fire ants like I did, they'll help get rid of those too!
There were a few wicked storms in December and they had a very professional tree cutting service come in to ensure there weren't any limbs that could fall on our campers.
My experience at Raccoon River Campground, from first impression to last, was a good reminder not to judge a book by its cover because once you open it, you may find a much better adventure than your own assumptions, and it might completely change the story.