Two years ago traveled to Shanty Creek and did a drive by tour through Charlevois & Petoskey on my way to Mackinac Island. I liked what I saw and wanted to tour the little finger portion of the Michigan mitten.
The first Lake Michigan view was supposed to happen around Saugatuck, but a missed sign resulted in a tour of Holland instead. I hit the highway and didn't stop again until I reached Ludington. We drove out to the Ludington State Park to have a look around. After investigating the beach area and determining the lighthouse was a 1.8 mile hike, we decided to make the trek to catch the sunset and hope the light stayed long enough for the return 1.8 miles.
The hikes began with a walk through the very full campground the smell of fires hanging low in the air as the kids ran back and forth in summer play. The trail turned past the camp and headed along sand dunes parallel with Lake Michigan.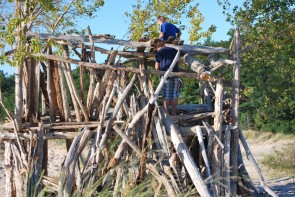 We climbed the first opening in vegetation to take a look at the lake view and came across a two-story driftwood fort and it's creators. This was the fifth year they'd returned to Ludington State Park and the fifth year they had continued to add onto the structure. It looked beautiful set atop a dune with panoramic lake views.
We continued along the road, past the hike-in campsites, the woods, sand dunes and bowls until the lighthouse came into view.
Originally built in 1867, the structure had deteriorated until the Lighthouse Keepers Association was formed and restored it. The Big Sable Point Lighthouse is on the state and national registers of historic places.
The light, like tourists, was disappearing and I wandered up the side of a hill and took time to play with my camera settings in the waning light. We stayed until the sun disappeared behind Lake Michigan, and were fortunate to have just enough light to make it back to the parking lot as darkness descended.