I expected today to be a somewhat challenging day to feel thankful… unless it was for my lawyer or for Lori Williams who helped me find her. (@loritwilliams) What I found instead was many, MANY additional reasons to be grateful.
One of those reasons is a twitter friend that goes by the name of ShopperAnnie. She reached out and invited me to join a few others gathering at a restaurant/bar in Ferndale. I've followed Annie for a while and she's such a wonderfully warm tweeter, I knew she'd be awesome in person. She is! As well as vibrant, intelligent, and engaging!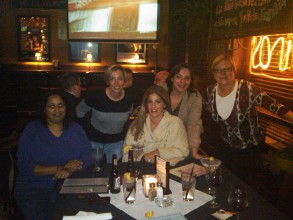 Another huge draw for me to attend this event: @Becksdavis
I've been popping in and out of her blog for some time now. I love that she finds the coolest Detroit information. (I HAVE to get to the DIA this weekend!) So in adoring fan gushiness, I couldn't wait to meet her.
A name that kept coming up in my circle of online friends was @RockDrool
Warning! Don't be drinking at the computer when you read her tweets or her blog unless you wrap your computer in plastic first. The candidness of her writing translates well into her openness in person. Her excitement about life and social media is engaging and enlightening especially when she inevitably draws on her humor.
I was also introduced to a new person who is now on my radar. @jchronowski47 If you get a chance to meet her, ask about the tattoos on her wrists – each has an interesting and motivating reason for being there.
I had a fabulous evening, can't wait to do it again! Thank you for ending a challenging day with fun and laughter! I'm grateful you are all in my life.