I'll tell you!
As you may know, I'm recently divorced and with the separation of assets I was left without a few household items. Since there's many things to replace with limited funds, I'm trying to be frugal so I hit my local Walmart. One of the purchases was a brand new set of pots. I am not the most attentive cook and have been known to burn a pot or two so I didn't want to "invest" in expensive cookware. I saw a reasonably priced set of Paula Deen pots. I don't know a whole lot about Paula Deen since I'm not a television watcher, but my mom assures me she's awesome. I assumed if they were good enough for Paula Deen to put her name on them, they'd be good enough for the simple cooking I do. I purchased the copper bottom set because they were pretty and had a price point of just over $110.
I read the instructions and soaked them in baking soda and water to remove the protective coating on the copper. I washed them and made an omelette. The instructions said not to cook with the pots on high heat so I kept it at medium high. Although, there was not any black on the eggs, they still tasted burnt so I threw the omelette down the disposal. I chocked the experience up to the copper being a better heat conductor and planned to try a lower heat next time.
Yesterday afternoon I walked into a house FULL of smoke and nasty smells. Assuming my children had cooked and burned something, I began calling for them as I walked to the kitchen.
What I saw took a moment to register.
My son had put the smallest pot on the stove at a high heat to boil noodles. He left a wooden spoon across the top and had obviously gone downstairs and forgotten about it. The fact the spoon had not burst into flames by this point was a miracle since I had seen one combust into flames when I left it in a pot of boiling water last year.
The noodles were black; but the most shocking part of the event, was the fact that the bottom of the pot had turned into molten metal on my glass top stove! I tried to pick it up and the liquid metal oozed downward to the lovely Paula Deen metal stamped disc that had partially melted onto my cooktop. I was stunned. How do I get this mass of molten metal off my stove without it dripping all over my wood floor or damaging my sink and corian counters?
I turned off the stove, picked up the pot, waited for another glob of metal to drip onto my stove and then ran the pot to my sliding door and tossed it into the snow on my deck. Thank God for the snow!
What was left of my pot looked nothing like copper. Instead it reminded me of that scene in Terminator 2: Judgement Day, when the new Terminator was in liquid metal form. If only my pot could consolidate itself back into one piece.
As the stove cooled, so did the metal. It cracked, groaned and mostly lifted off the glass. There's still some metal residue. Today's job is to determine whether that burner is now ruined or whether I'm able to remove what's left of my Paula Deen pot.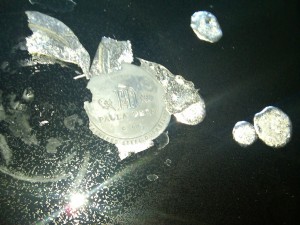 I also need to understand why my hard-wired smoke alarm failed to sound. For the record, my son has learned his lesson!
Can anyone recommend a GOOD set of pots?