Legend tells of a mother bear and her two cubs taking to the water to escape a raging fire in what is now, Wisconsin. They swam for miles and after tiring the cubs lagged behind. When the mother bear reached the opposite shore, she climbed atop a hill to watch for her babies, but the cubs drowned and became what is now the two Manitou Islands. "Sleeping Bear" is the single dune near the point that marks the spot where mother bear waited. It is slowly eroding and changing with water, wind and weather.
Sleeping Bear Dunes National Lakeshore is an incredibly beautiful area beginning at Lake Michigan, stretching through dunes, forests and glacier carved lakes.
We spent most of our too-short time here on Pierce Stocking Scenic Drive which gives drivers a quick summary of the wide variation of landscape in this area. The road was the vision of Michigan lumberman, Pierce Stocking, who oversaw the scenic drive until 1976 when he passed away. Posthumously, the drive was renamed to honor him.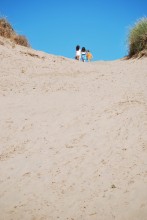 The self-guided tour has many "pull offs" to view the vegetation or the views. The first was a covered bridge. The most memorable interest points were the views of the dunes, Lake Michigan and Glen Lake. Although there is an official Dune Climb location further into the park, the first glimpse of extreme dune climbing occurs along Pierce Stocking Drive. It is accented with a sign that warns of a $2500 rescue fee should the adventurous wander down to Lake Michigan and not be able to get back to the top. There were plenty of adventurers going down and were winded coming back up.
Reluctantly, I left the national lakeshore and headed towards Traverse City with plans to return to the area to camp, hike and tube in the future.