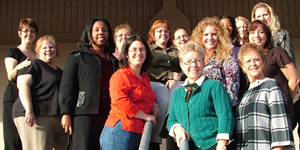 I'm a reformed Virtual Assistant snob. I've been a VA for almost a decade and yet I had never attended a Virtual Assistant networking event or conference. Ever.
Yesterday, I attended the Michigan Virtual Assistants First Annual Conference in Ann Arbor and am very thankful I did.
Why have I never connected with other VA's?
Quite simply I was too busy. I've never gone looking for clients, they always found me. The quick searches I'd done on the internet told me the other VA's didn't provide the same variety of services I offered or they were marketing their knowledge to other VA's. I was completely happy working with my clients and my clients were happy with my services so I didn't feel the need to connect to other VA's. I was wrong.
How did I end up at MIVA?
I recently joined the local networking group called Motor City Connect where I was introduced to Twitter through two of the groups founders, Terry Bean and Charlie Wollborg. Someone twittered about Terry and Charlie presenting at a VA conference, and my interest was piqued.
Terry is the consummate networker and through his company, Networked Inc teaches others the importance of networking while providing them with the tools and motivation to succeed through connecting.
Charlie is a troublemaker at Curve Detroit. If you don't believe me and want to see for yourself: "don't click here." Curve Detroit is an advertising and marketing firm.
These were the two speakers booked to present at MIVA. I went because I had recently met them at a Blight Busters event and found them to be motivational, charming and very entertaining. I knew the presentation promised to be interesting.
How was I was reformed?
The presentation was exactly what I expected; entertaining and educational. I highly recommend any one and every one to ask these two to present to and train staff in their organization. They've got a lot of creative ideas that are delivered in a fun and interactive format.
After spending the afternoon talking to the other Michigan Virtual Assistants, I realized how much I had missed connecting for business. I enjoyed chatting and sharing ideas with like-minded motivated entrepreneurs. These are a group of uniquely talented women who support and educate each other and I can't wait to see them again. The only improvement on the day would have been the opportunity to spend more time sharing thoughts and ideas. Thanks to Kristi Pavlik, Tamara Jaros, Dana Fortier and Ricki Steigerwald for organizing the day.
Michigan Virtual Assistants can be found at http://www.michiganvas.com. If you are a Virtual Assistant located in Michigan – sign up! If you are a business owner looking to find a Virtual Assistant, there are several directories including this Michigan based Virtual Assistant Directory. Take a look through each company listed to get an idea of the wide variety of tasks that each VA can perform for your business.
I plan on attending more Virtual Assistant conferences starting with FoVA conference since I won complimentary registration to their 2009 sessions being held in Niagara Falls, Ontario. I'll be there for my birthday… so look out!
Connect with the people and organizations mentioned above through Twitter:
@FoVA_2009
@SystemsChick
@danafortier
@TerryBean
@CharlieCurve
@Cletch