In the past year:
I sold my house on the river and moved into an apartment 1/4 it's size.
Sold almost everything I owned, except the basics that would fit in said apartment.
Saw my youngest through his first year of university.
Said a sad goodbye to my 13 year old, four legged friend, Caesar.
It was definitely a year of changes, although it's always sad to let all these things go, I've chosen to focus on the gratitude & celebrate the success of my experiences. I kept our family life stable for as long as it needed to be. The children stayed in their home until they were out of high school, and Caesar had long daily walks and lots of love. Simplifying my "stuff" has been freeing.  I used to have to spend the entire weekend cleaning or working on the house, now I spend an hour or two once a month and there's no yard work in an apartment!
I've found myself with the least amount of responsibility since I was 28 years old.   It's given me the opportunity to make my home where ever I choose to make it.  I can define what "home" means to me. My business is such that I can work on my laptop anywhere there is internet so I spent a great deal of time living with my aunt the last few months while renovating my mother's house on evenings and weekends.   It recently sold and I had to head back to Kingston, Ontario to close the transaction and clear the last few belongings out of the house.  I decided to stop in Toronto and Wasaga Beach enroute to visit friends.
I LOVE road trips.
Exploring, visiting, even the ones where I don't really know where I'll end up or what I'll do.  So many of my female friends are afraid to get into a car and just go, they feel they need someone with them.  I was reveling the the fact that I'm perfectly fine traveling alone, but then I realized, I'm not actually alone.  Much of my security comes from the fact that help from a live person is only a button push away.  I've been an OnStar subscriber since 2005 when I bought my Buick and when it was totaled I specifically purchased a used replacement vehicle that had OnStar. Now you can buy the rearview mirror to get OnStar…. you don't have to buy the whole car!  This is why I am comfortable taking long road trips alone,  I can push a button and OnStar will send help if I need it.  A few years ago, I was invited to tour the OnStar facility here in Detroit – it was a great experience.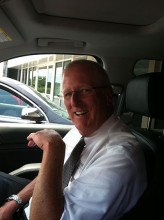 I love OnStar road trips more!
Recently, OnStar gave me another opportunity – they asked me to take one of their media cars on a road trip so I could test their new app and services.  Uh…. YES! So when I left on my most recent road trip it was behind the wheel of a brand new crystal red, fully loaded 2015 Tahoe LTZ.   I was set up with the OnStar Directions and Connections plan too!
There was so much to learn about the car and new services, that I was incredibly thankful to Dan Kane of Dan Kane Chevrolet Buick GMC Cadillac in Windsor, Ontario, for his VERY THOROUGH training session.  I learned so much about the SUV and about OnStar from him.  For example, did you know that if a group of people begin to shake your car, that it will trigger an OnStar call to see if you need assistance?  (An important feature if you live near a university on game day!) Or if your car is stolen, OnStar will send the location information to police and when the police catch up with the car, they can cut the engine?  If you have children who take your car out, you can even see where the vehicle is located via the app!   I downloaded the OnStar App and began to explore the features for myself.
OnStar Remote Link
I put the app through the motions but my favorite, FAVORITE feature is the mapping service.  Through the OnStar Remote Link app I can click on the Nav section and either type in or select an address from my contacts.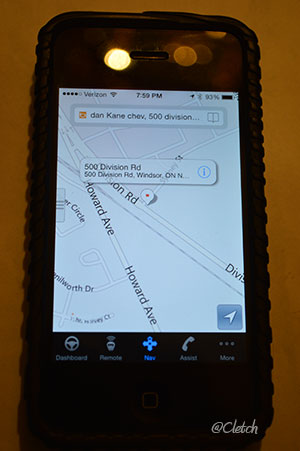 Click on the little blue i symbol, and the following screen pops up.  You can choose to send directions as "Turn By Turn" or "Send to In-Dash Nav".  Turn by Turn is perfect for cars such as my old Saturn which doesn't have the visual navigation built into the car.  You then hear audio directions telling you where to turn, when to stay left etc as you are driving the route.  I found it interesting that the route updated when I had to change course due to traffic.  That was new from when I had the directions and connections plan several years ago!  If you have a newer car, you can send the directions to your In-Dash navigation and the directions will appear visually as well.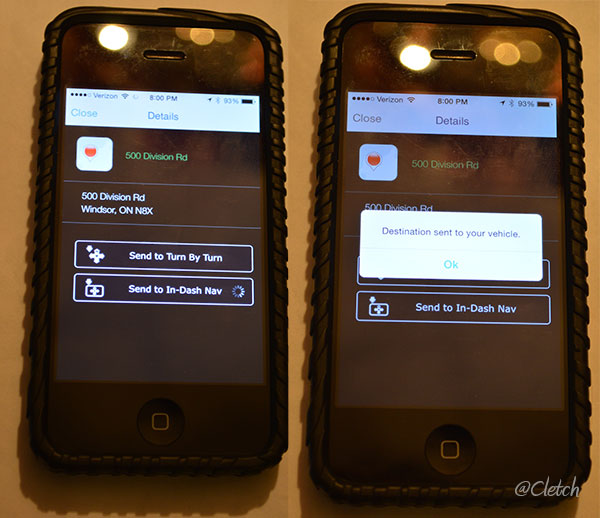 When you get into your vehicle and turn it on, OnStar will tell you the information is downloading into the car.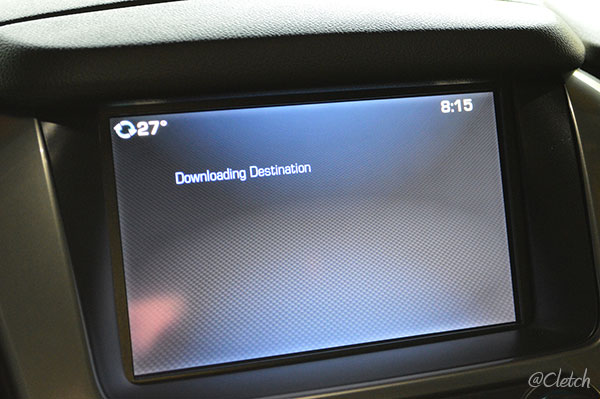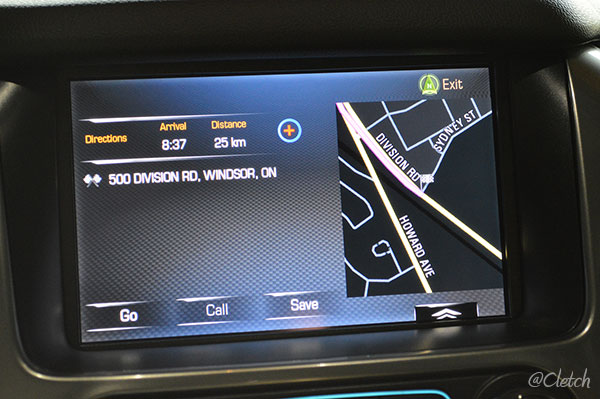 Other interesting app features:
Tracks your vehicle's diagnostics such as tire pressure, fuel, life of the oil, OnStar hands free calling minutes
Remotely lock and unlock your doors
Remotely start your engine
Remotely set off your horn and lights
Contact an OnStar Advisor
Contact Roadside Assistance
Keep in mind some of these remote features require features availability on your car in order for them to work.  For example you must have a vehicle with remote start in order for it to work with the app.  You can view their plans here.  Something I know is available with most 2015 cars that come with OnStar that I didn't see mentioned on the web site is a wifi hotspot which will become available with 2015 GM cars!  How awesome would it be to surf the internet while traveling long distances?  Obviously not while you're the driver.  It'll make traveling with children a whole lot easier.  I tried to use it while I was in Canada but was told by an OnStar advisor that the wifi service is not available in Canada, which is too bad because that was where I really needed it!
Show Off!
In the ten days I was gone, I had the most fun showing off the Tahoe and OnStar services to all my friends and family.  It was a blast to take them for a tour and show them what technology does for a vehicle these days.  Most people were surprised by the features and didn't realize all that was available.  They didn't even know that OnStar offered roadside assistance – their Roadside Assistance saved me from being stranded twice this past winter!
Below are pictures from my trip highlights and you can read about my camping and Warrior Dash experiences over on CanadianaConnection.com.