Recently I saw a movie called The Bucket List.  Jack Nicholson & Morgan Freeman are two terminally ill patients that complete their "to do" lists before they "kick the bucket".
Although not facing impending death, I too have a very long bucket list.  I recently got to check one of the items off my list when I took surfing lessons from The Pacific Surf School in Tofino, British Columbia, Canada.
Tofino is a small town of approximately 1500 on the west side of Vancouver Island. It's a popular destination for beachcombing, whale watching, fishing, and winter storm watching.  In recent years it's also become a surfing destination.
The smaller summer swells that work their way into natural sandy beach bays are perfect for learning to surf while the winter swells are pleasantly challenging for more experienced surfers. 
YES!  Can you believe it? You can SURF in CANADA in the WINTER!  The area has a temperate climate and an ocean temperature that varies by only a few degrees throughout the year. That environment coupled with warm wet suits, makes surfing 365 days a year possible.
The first hour of our 3 hour lesson was in the sand.  An instructor went over safety considerations such as types of currents.  We learned that Cox Bay, our surfing location, had rip currents to the sides of the bay as the water moved back out to sea.  They're dangerous as they can quickly carry you out to deep water.  If caught in a rip current swim horizontally across the current towards the bay. Rip currents are not very wide and this technique allows you to swim out with as little physical expenditure as possible.  We also learned that, unlike our swimming experiences in the Atlantic Ocean, Cox Bay did not have an undertow. 
Also covered in our interesting and engaging lesson was surfer etiquette.  We learned how to recognize a breaking wave and the surfer who is closest to the peak when the swell breaks gets to surf the wave.
We practiced our pop-ups on sand-drawn surfboards and we were psyched & ready to hit the real waves.  Dragging the long board out tail first saved having to turn it around in the waves.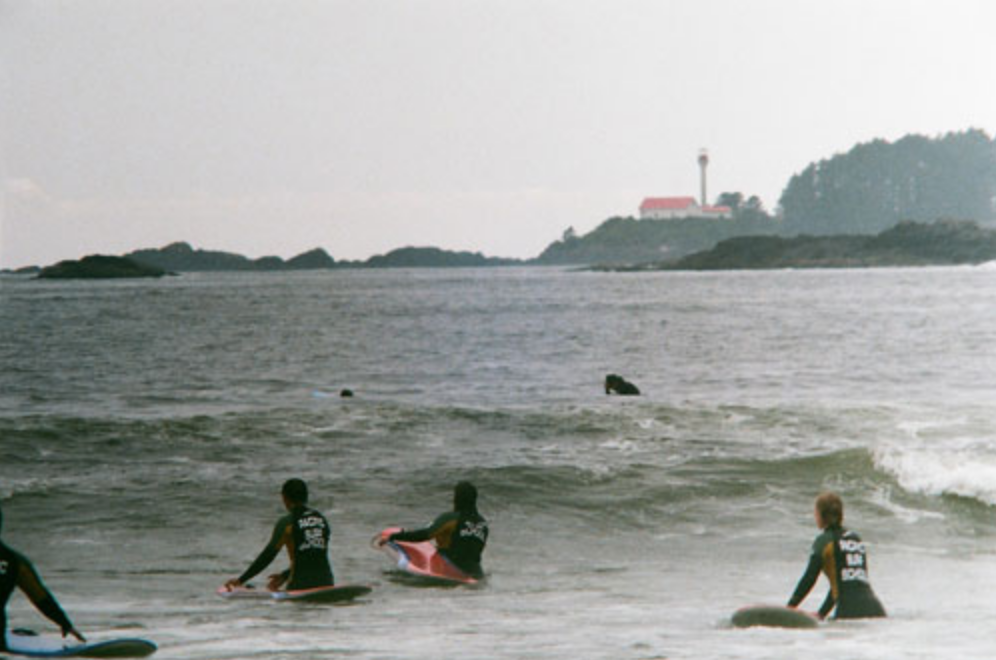 We waited for the right swell… hopped on our boards… checked our positioning… and started to paddle towards the beach…. as the wave hit our toes… we paddled three more strokes…. 1…. 2…..3….. push up position…. brought one knee forward under our chests…. foot flat on the board and pushed ourselves to standing!  
Well…. okay, I got everything right except the last step! 
My son, being an avid skate & snow boarder was up on his first try and surfed more than anyone else that day.  I on the other hand, enjoyed riding the waves from a less glamorous position.  I'm sure if I hadn't been so tired from jumping waves to get out into chest deep water… I would have had it.  I plan to work on my technique next time – I can't wait to try it again! 
Thanks to my Dad for arranging the day and taking the photos.  Thanks to the Pacific Surf School for an entertaining & incredibly fun experience; which included a great deal of laughing  while struggling to get wet suits on & off!  
So that's checked off my Bucket List.
Next? 
Diving Lessons.