Everyone collects something. For my friend Barb it's hippos, my grandmother collected owls, my mother collects coins – and anything else the shopping network tells her she needs.
I have collected things on and off through the years, but I didn't consider myself a true collector of anything – unless friends count. The other day my son came to me and mentioned a long forgotten folly of mine. Buttons.
I knew I saved them for "one day." The day when I was a grown up and could create a display in my house that was worthy of their high priority status in my life. I thought occasionally about that display case dream over the years; perhaps in a recreation room under bar glass, or shadow boxes on the wall. Unfortunately, that room never got finished, but I continued to keep the buttons hidden away in the recess of my storage shelves.
I just realized Flickr is the perfect display case for my buttons so I've decided to post one daily there. If there's a story attached, I'll write about it on one of my blogs. I'm not sure how many I have, but I expect to have one every day for at least the next year.
The subject matter is varied. Political, pop culture, fast food, products, tourism, funny sayings; it's difficult to know where to start. So, I'll start at the beginning. The attached picture is the button that started it all. I became a Club member and faithful button collector from that day until well into my anti-establishment teenage years. You'll know which decade from which based on the button subject matter!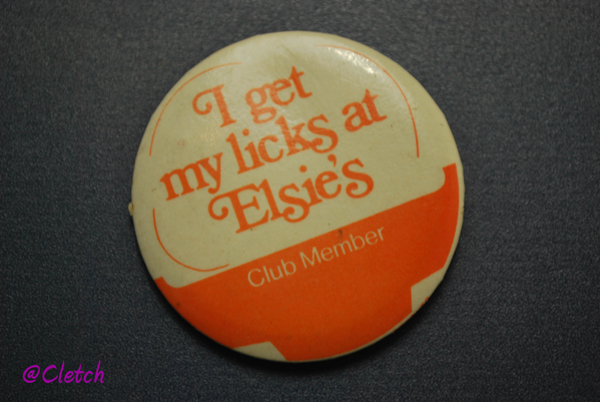 I believe the "I Get my lick's at Elsie's" was a button promoting Borden ice cream and I would estimate it to have been available in the early to mid-1970's. If you can shed some light on the accuracy of my timeline and add information, please do!
I'll post all my buttons in this Flickr Button A Day Project set.