After leaving family in Calgary, my son, his friend and I headed west into the mountains.  I was excited to play tour guide to my guests and share the beauty of Banff National Park with them. Our first stop was my first stop in the 70's.  Lac des Arcs. It's a part of the Bow River that widens into a lake, and is the first glimpse of close up mountains and water with an easy access rest stop for tourists. It's a mandatory stop to feast your eyes and breathe in the beauty.  From our viewpoint we were unable to see any of the damage the floods had done here only a month prior. The industrial site that anchors one side of the lake is owned and operated by Lafarge Cement, located in Exshaw, Alberta.
From there we drove into the park after purchasing a pass (you can't enter without passing through the entry gates).  They've made it easy for you to see & travel through all the National Parks in the area – Banff, Jasper, Kootenay, Yoho – by making it a single ticket purchase with access to all.  You choose the length of time you want continued entry.
I delighted in pointing out the numerous bridges and tunnels, specially built, to allow wildlife to migrate over and under the highway without loss of life.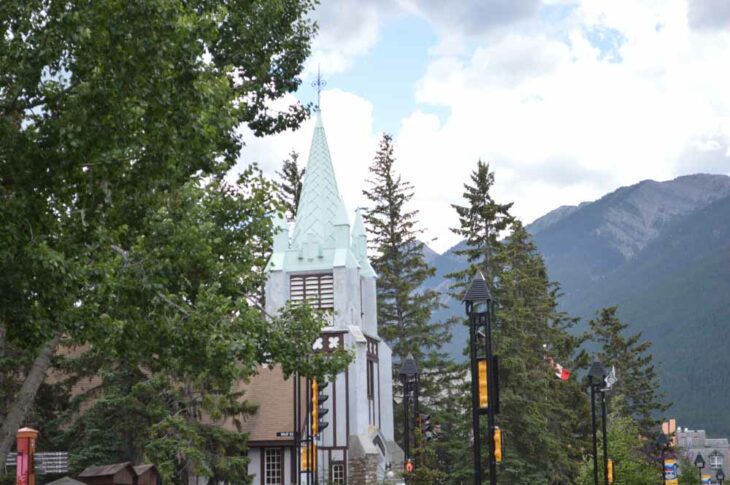 Shopping wasn't on our agenda so we didn't stop in the small town of Banff, but as we drove through I was please to see it had kept it's small town charm despite droves of tourists.  Banff is the first town to ever be incorporated as a municipality within a National Park (1990).  It remains small and charming because it is not allowed to exceed it's current land base of 2.5 square miles.  The Banff Springs Hotel is located here and along with Chateau Lake Louise, remains on my bucket list of historic hotels I'd love to experience over night. Perhaps my next visit.
After a couple of wrong turns, we found ourselves standing in front of the Bow Falls. It seems every time I see these falls it's in the drizzling rain, which doesn't dampen the beauty of the area at all.