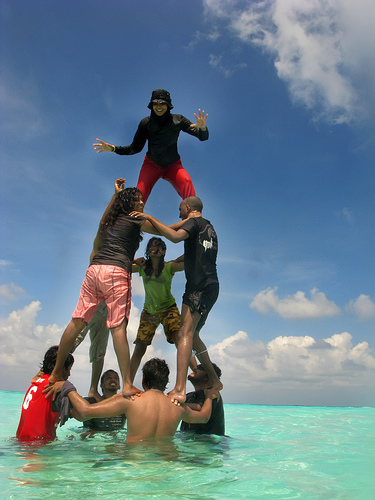 On Day 1 I said I was not going to make any wishes that involved regret without following the comment with a positive reference to the future.
Last night I took one of my CyberCletch team members out for dinner to celebrate Christmas and to thank her for the work she has done this past year for my company.
We found ourselves talking about marriage and expectations; I caught myself saying, "I wish I had the same wisdom 20 years ago as I do now."
Aside from the fabulous children I have in my life, I'd choose to completely change the course of my life. I would have paid more attention to those niggling signs that bothered me instead of dismissing them as quirks.
So my positive follow up statement to that unintentional wish is this:
"I am twice as wise as I was half my lifetime ago, and for this I am thankful. There are many people who live their entire lives without realizing what is important.
I'm wise enough to understand that true wealth is measured in the quality and quantity of the friends and relationships I have built over the years. No matter how superficial people are, money and possessions won't keep them warm at night nor earn them lasting respect."
I would rather walk away confident in the respect and love of those supporting me because I know if I needed help, every single one of my friends would be there for me.
That type of security is priceless.