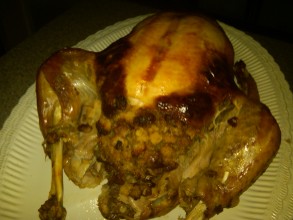 As long as my children have been active participants at the dinner table, we've discussed what we're thankful for over Thanksgiving dinner. So, when I began 30 Days of Thanks, I expected Thanksgiving Day to be the easiest blog article of all to write.
I was wrong.
Without going into details of past "announcements" by other attendees, I expected the dinner to consist of three, but instead it was a dinner for four. Not an issue, I had prepared enough food and keeping my kids happy is of utmost importance.
Conversation was incredibly strained. I kept trying to start casual discussions on the children's activities or general events. It was made painfully clear the ONLY safe statements were food related. Do you know what it's like to spend an entire meal repeating "mmm this is good"? Or to ask a question and get NO response? Yeah, it was like that. The evening was finished off with the two boys going to their respective corners in the house. Their angst, a likely result of the dinner table tension.
So after much contemplation, I've decided I'm thankful the food was delicious, otherwise we'd have had no dinner conversation at all. I'm also thankful that next year, I can choose to limit the Thanksgiving guest list to those willing to keep the ambiance positive.
…and by the way… my first attempt at turkey gravy rocked. I am officially a gravy-maker now.
***if you're wondering why portions of the turkey look dark in the picture, it's because we are stuffing lovers! My grandmother taught me to stuff the bird under the skin as well so there's more stuffing for left overs!***