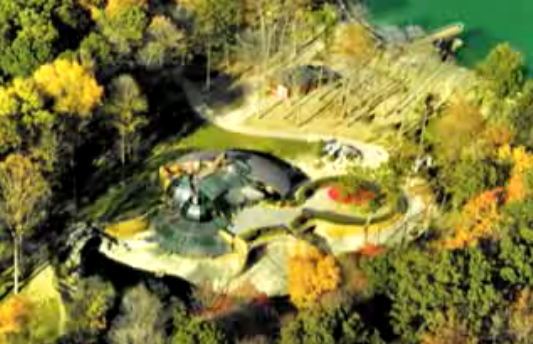 While living in Columbus, Ohio, I had the good fortune of being invited to a fundraiser at this home. Owner Karen Skilken is an avid animal supporter and offered her unique residence up for an evening gala benefitting homeless four legged friends.
The architecture was unlike anything I'd ever seen before. Her husband, Steve, had architect Bart Prince design the structure. If spaceship pod living met a Disney hotel and was built with the finest materials… it would look like this. Some of the interesting features, aside from the circular design itself, include a winding lap pool with the ability to dive into it from the master suite, an underground parking area, and a helipad.
You may have seen it featured on HGTV's World's Most Extreme Homes several years ago. What I found surprising is that Bart Prince designs from the inside out. His designs are large, interactive, art forms.