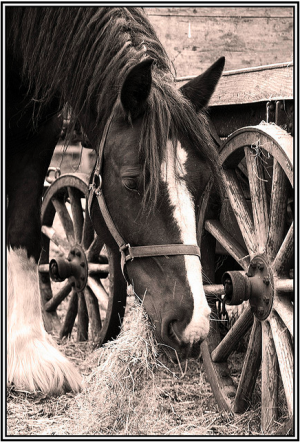 Sometimes it's necessary to put the cart before the horse. Sometimes you need to know how much cart you're going to require before buying your horse. Once you know how big the wagon and heavy the load, only then can you determine if you'll need a Clydesdale or a colt.
I've been struggling in my mind with a cart and horse issue. Or more accurately a vehicle and RV issue. I want an RV but I don't know what style I want. There are so many! Motor homes, converted buses, converted vans, towables of varying sizes and truck campers. I need something I can live comfortably in full-time but it must be easy enough for a solo female to hook up and detach.
My initial thinking is that I'd buy something to tow, either a trailer, a fifth wheel or a truck camper because when I settle in a place for a while, I'd like to travel around without my house. People keep telling me that a fifth wheel is the only alternative for me if I'm going to travel alone.
I like to be prepared. I plan to hit the road in two years and if my old car doesn't last that long, I need to know what kind of vehicle to purchase if I want it to pull an RV. Problem is I have to decide on a fifth wheel size first, because I'll need to buy a vehicle powerful enough to pull it.
In short: I'll need something to pull an RV but can't know what vehicle I'll need, if I don't know what RV I'll be pulling. Putting the cart before the horse. Once I have these questions answered, I'll know how much money I need to save to make my dream a reality.
This weekend will be the perfect opportunity for some research. I'll be at The Pinery Provincial Park to spend the weekend camping and catching up with a couple of dear friends. One of those friends recently purchased a truck and fifth wheel and she's going to show me the ins and outs of traveling with it. I'm very excited to see if a fifth wheel IS the best option for me!
If you have any words of wisdom, do and don't's or plain old advice that will shed light on my dilemma – please share!