The biggest lesson I learned in 2009 is that I have the best friends in the universe. I've never been one to rely on others but have always allowed them to lean on me. This past year, I needed support, and my friends were there without question. I am so very thankful to each and every one of them!
Knowing the challenges I've been facing one friend stepped up and created a 6 day vacation getaway for me. Nearly a week of downtime, reading, photography and peace. It was exactly the prescription I needed to relieve all that ailed me.
I stayed at the Seaside Inn which is a quaint little collection of hotel rooms and cottages situated around the pool and overlooking the beach. The staff was very friendly and services included free use of the bicycles, plus a book and movie borrowing library. Every afternoon they'd drop a basket off with breakfast goodies for the next morning.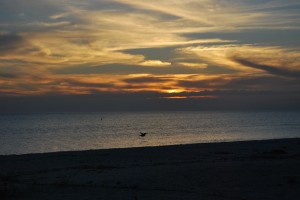 The first full day, I took advantage of the complimentary bicycle and rode to the south end of the island to view the lighthouse. Along the way I stopped at a real estate open house and picked up a wonderful corned beef on rye to eat on the beach.
I began to ride north, stopped for an hour long massage, a little window shopping, and then continued on my way. Silly me, I thought I would make the northern most tip of Sanibel Island before sunset. I ended up riding west and cutting through an empty rental property to catch the sun as it sunk below the ocean.
On the way back, I came across a busy restaurant with brightly painted Adirondack (Muskoka) chairs laid out front in a semi-circle. I submitted my name and settled back into one of the chairs until I was called.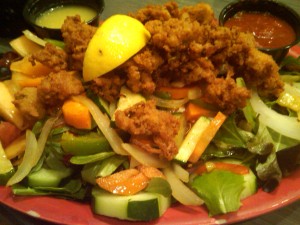 Now one thing I absolutely LOVE is salads. Preferably with unusual combinations of ingredients that meld together to new and interesting taste sensations. This restaurant is currently the forerunner in my quest to send my taste buds into a frenzy! The Island Cow created a salad unlike any other I've had before. Grilled veggie and goat cheese salad topped with fried calamari. This salad fed me for days! It was delicious!
I rode home on pitch black bike trails hoping I wouldn't connect with an alligator crawling onto the warm path from the canals below.
(To Be Continued)