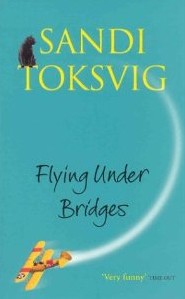 My neighbor borrowed the audio book Flying Under Bridges from the library and found herself laughing out loud in her car while she listened. Knowing I was a huge Shirley Valentine fan, she loaned me the discs when she finished with them. She was right, I loved it!
Flying Under Bridges is a witty look at many of the issues we face, including equality. The author, Sandy Toksvig weaves the story with humorous sarcasm, provoking deep consideration while I simultaneously laughed out loud and yelled, "Yes!" in agreement with her human observations.
Here are my favorite excerpts from the book. I could easily discuss each one in its own merit but for now, I'll just share them as I heard them.
"The housewife who must wait for the success of world revolution for her liberty might be excused for losing hope." Germaine Greer
"Its when you go to the supermarket you see the true triumph of the women's liberation. Each out of town superstore is packed with women leading full and satisfying lives. These are the women who have achieved the serenity of motherhood, the satisfaction of a creative career, and the ability to achieve orgasm during the spin cycle of one of their many efficient household appliances.

Women who know how to fondle a melon into ripeness, a child into slumber and a man into ecstasy.

Is it true?

Wander down any aisle and find out.

These are the women who aren't supposed to exist anymore. They were supposed to have woken to the clarion call of liberation given in the 1960's and 1970's and reached out to fulfill themselves. Instead, these women had stolidly followed in their mother's silent footsteps. The women knocking on the glass ceilings of corporate affairs might find it hard to imagine these suburban lives but they are still being lived. Some with more equanimity than others."
"A man killing someone while he was drunk might have used it for a defense but for a woman, it painted her as even more satanic."
"Now the rules were clear. He didn't need to romance her but she needed to work to keep him. All the magazines said so. Every wife was a devil for having cellulite. She must not let herself go. She must think of witty and appropriate conversation to have over well-prepared meals. And he might smell of sweat and labor but she might not. Not ever.

She must succumb to perfumes, bombs and bath oils. Colors for her hair, her lips, her cheeks and her eyes. Above all, she must not look down in the bath and find that her stomach refused to sink below the water."
"Adam didn't want me to be subservient, that's what he would tell you, he just thought I should do it his way. Women are subservient to men because they made men disobey God. Bloody Eve, bloody, bloody Eve."
If you have the opportunity to listen to the book on disc, I recommend it. Hearing the author tell the story in her own voice enhanced the understanding but I also would have appreciated the opportunity to re-read some of the paragraphs. Time well spent: Flying Under Bridges .