This is the second dessert I've found since changing my food to gluten & dairy free. This pie is easy to make, delicious, and you will not be disappointed! I found this recipe at www.SimplyGluten-Free.com but made a few quantity changes to accommodate my 12″ disposable pie plate.
Ingredients
Crust
2 cups blanched almond flour
7 large medjool dates, pits removed, chopped finely (found them in the produce section of my grocery store)
1/8 tsp sea salt
3 tablespoons coconut oil (more if required)
Filling
6 ripe bananas, cut into pieces
5 large medjool dates, chopped
1 1/4 cup unsweetened coconut milk
1 cup unsweetened cocoa powder
1 tablespoon pure vanilla extract
½ cup sliced almonds
2 ounces dark gluten & dairy free chocolate, shaved with a vegetable peeler
Directions
Crust
Preheat oven to 350 degrees. Using wax paper spread Earth Balance Natural Buttery Spread over the pie plate. If you have spray you can use that as well.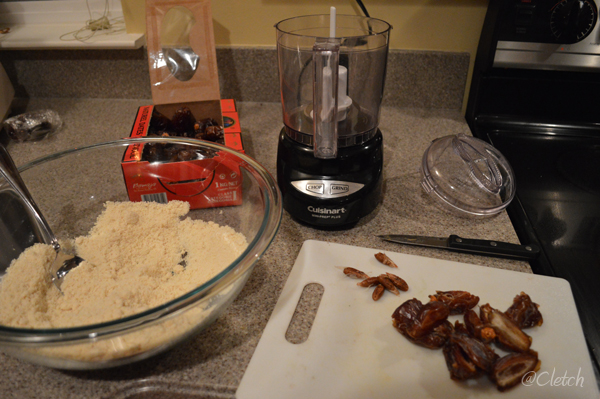 Combine the almond flour, dates and salt in a food processor. I don't have a full sized processor so I added smaller amounts, pulsed until combined and then manually mixed it in a bowl. Add the oil and process until the mixture starts to come together like a dough (I mixed by hand). If the mixture is too dry add some more oil, a few drops at a time. Press dough into your pie plate along the bottom and up the sides.
Bake for approximately 12 minutes – until the crust has browned. Let cool completely. The crust will harden as it cools.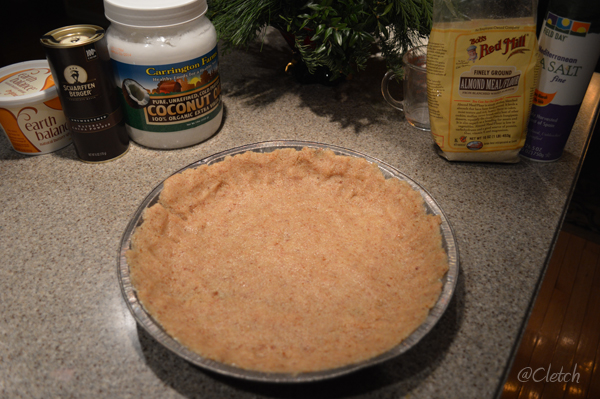 Filling
Combine the bananas, dates, coconut milk, cocoa powder and vanilla in a food processor. Process until smooth. (or blend in increments if you've got a smaller version!) I initially added a heaping 1/3 cup of cocoa and found the mixture only tasted like banana. I added another 1/3 cup and in the future would add a bit more – which is why I recommended a cup in the ingredient list. Try it yourself to be sure.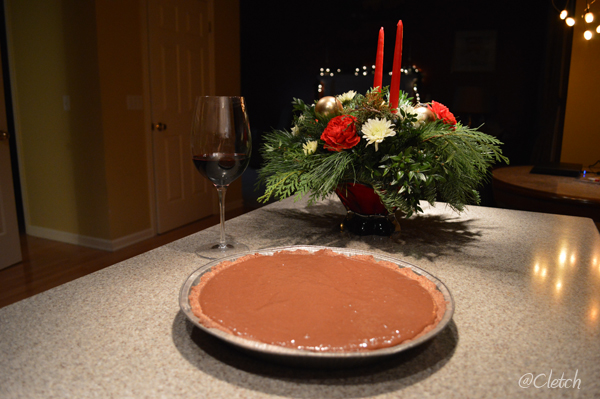 Pour the mixture into the cooled pie crust. I covered and placed it in the freezer at this point since I was worried the chocolate would turn white after being frozen.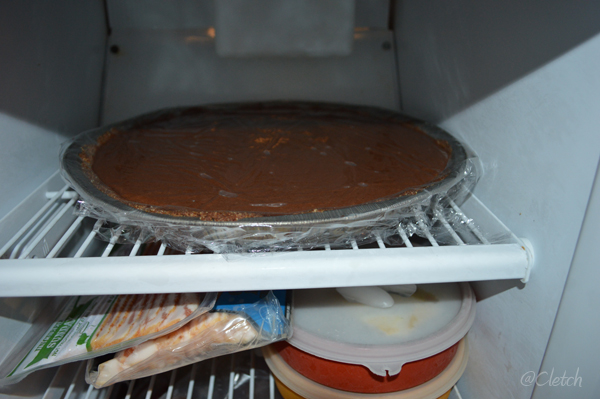 It can be frozen a few days ahead of time, but should be frozen for at least 4 hours. When ready to serve, top with sliced almonds and shaved chocolate. I used a peeler to shave the chocolate but found I was only able to accumulate small shavings. It seemed to take forever and was very messy…licking fingers is mandatory.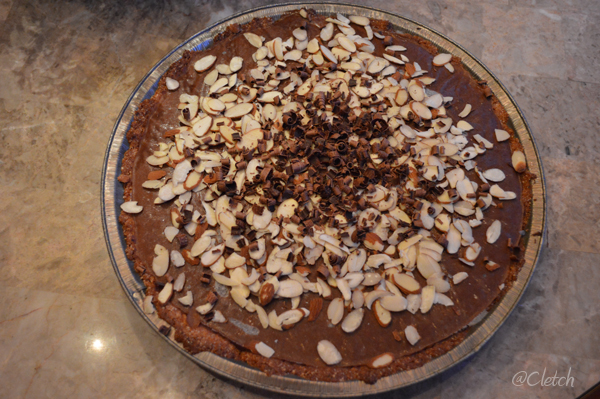 After approximately a half hour the pie should be ready to serve. I popped the leftovers back in the freezer and then used a sharp knife to cut pieces off in the following days. Allow to sit for 30 minutes. I loved eating the pieces when they were still frosted – and they made an excellent breakfast food!
I served this with Christmas dinner and four teenagers agreed that it was delicious. They particularly loved the crust!