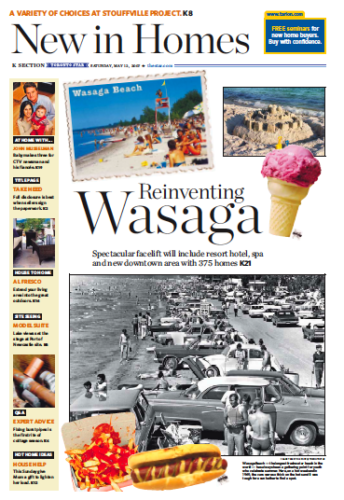 In this economy we don't hear much from builders because it's a particularly tough real estate market for them.
Recently, I spent Canada Day in Ontario, in a small tourist town called Wasaga Beach. Town Council cut backs included reducing the number of holidays in which they set off fireworks. Canada Day was one of those cuts.
Wasaga Beach was a cottage town that sprung up around a beautiful freshwater beach at the base of Georgian Bay in Lake Huron. As retirees and commuters began to make permanent homes there, retailers and amenities have slowly begun to follow.
The shortcoming of the area for residents and businesses was the lack of town center. The community of Stonebridge has found a mutually beneficial resolution.
The first feature the builder has completed (aside from the retail and restaurants within walking distance), was to create a small park-like pond and gazebo area, aptly named the "Stonebridge Town Centre".
While continuing to build the 1920's beach-style designs, the builder has established a farm market and evenings of live entertainment centered around the gazebo. The events are enjoyed by residents and tourists and offer the ultimate advertising for the community being built there. According to their website, Phase 1 and 2 are sold out and they are currently selling phases 3 & 4 of the 353 home community.
On Canada Day, we walked through the stone pillars into a community still under construction. We admired the designs, discussed how close it was to the beach area. I learned about the builder's vision and the private river front property available for residents use. Builder sponsored fireworks were set off over a mature tree line separating the area yet to be built with the gazebo. It seemed as though the entire population had come out to watch the firework show that rivaled any I'd seen in Canada before.
And I thought… "this builder is brilliant, he has managed to create wonderful memories, positive emotional associations, resolve a long-time town planning issue, and market his community to a massive group of people."
Even if those in attendance don't buy, they will recommend Stonebridge to others.
Other builders could use this community as an example of successful non-traditonal advertising. As social media has taught us, one-way advertising seems to be losing it's impact as consumers are beginning to insist on mutually beneficial relationships. The endemic benefit is increased customer loyalty. Stonebridge has done an exceptional job of giving to the community it is making a profit from.FacebookTwitterGoogle+PinterestLinkedIn