After 4 and a half decades of 20/20 vision, I realized I was having trouble reading books in my hand and road signs from a distance. I decided glasses may take the guesswork out of those fuzzy word shapes. With a reference from Lisa VanWyk (best Arbonne Rep ever), via INSB (a local networking group), I made an appointment with Acuity Optics in Commerce.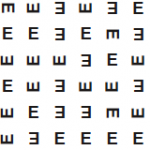 Dr. Bourdeau was very helpful with explanations to this eyewear novice. The eye chart was particularly challenging; I was struggling with what to call one "letter" when she turned around and realized she had erroneously posted the tumbling E chart!
I'm still getting used to reading glasses but I've finally adapted to my driving pair. As a side note, I should have taken her advice and purchased progressives instead of two sets. Now I know for next time.
(Note the video below will cause laughter despite the coarse language)
Laughter is good for the soul and provides many benefits, I believe it could be the true fountain of youth. It may not help you look younger but it definitely will make you feel younger! I've been aging at an alarming rate these past couple of years and I've almost completely lost my joie de vivre. So when Anastacia Brice began 31 Days of Laughter, I decided to join in and take notice of what was making me laugh daily. What I learned is I don't guffaw nearly as much as I used to; my funny bone is tired.
That needs to change, doesn't it? Somehow I think exercising my funny bone will be far more enjoyable than exercising everything else.