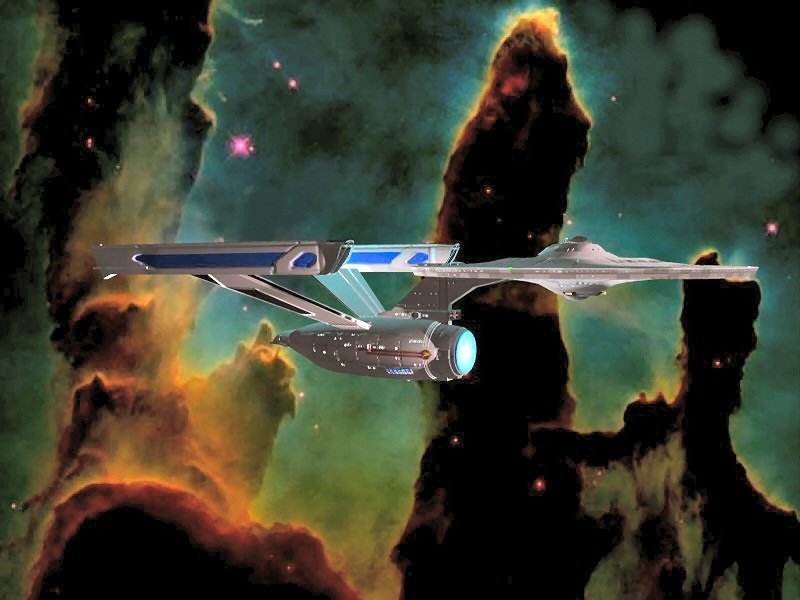 It's a new decade!
Twenty-Ten.
Sounds futuristic.
How do I feel about 2010?
I have this visual of the original Star Trek crew at the bridge of the USS Enterprise:
They're staring into a black hole, knowing they have no choice but to draw on their strength and courage to propel them forward, a tinge of fear showing on their faces because they don't know what may be inside but they verbalize hope for a better option than what's behind them.
At midnight last night, I pulled out my old goal setting journal. Aside from a few laughs (I wanted a talking bird?!?!) there were some enlightened moments where I saw consistencies across the years.
Interestingly, I started the journal in 1988 with the following passage.
"Sometimes a person needs a place that is theirs and theirs alone. Somewhere you can think private thoughts and realize personal dreams. This is my personal space in which I will give birth to thoughts and allow them to mature. When one lives with another, space is limited and there is a need to escape and be with oneself, to forget your surroundings and be alone."
I wasn't married but had been living with my future husband and his father for nearly a year. Prior to moving in with him I had lived alone for three years and was having trouble adjusting to living without privacy. Both of them are VERY social and to this day my soon-to-be-ex husband prefers not to be alone. Even then I found his need to be constantly engaged exhausting.
In 1988, I was reading Dr. Wayne Dyer's book Your Erroneous Zones and recorded two quotes from it. When I read them last night, they seemed to be a predestined message from my past.
"It isn't the experience of today that drives men mad. It is the remorse for something that happened yesterday, and the dread of what tomorrow may disclose."
I'm heading into a week of negotiations that will impact my future, and yes there is some dread of what tomorrow may disclose. It's heartbreaking to conclude I've lived my life helping another realize his dreams and there is no appreciation or value seen in the loss of my dreams.
Remorse and dread.
"Only a ghost wallows around in his past, explaining himself with self-descriptors based on a life lived through. You are what you choose today, not what you've chosen before."
It's 2010 and how I live this next decade will by MY choosing.
After reading my journal I understand I am not staring into a black hole. I went into it in 1988 and I'm coming out the other side in 2010.
"Ahead warp factor one."
Happy New Year!
Originally posted on The Sticky Floor