Day 10
I might be the odd person out. Or perhaps, I'm just the most boring person you know.
I find the concept of Big Brother somewhat comforting. I like the idea that people are keeping an eye on my safety. I've been a fan of OnStar since 2005. They make me feel safer, so when I purchase a car having access to OnStar is a priority for me.
I spent yesterday morning learning about @ccess Oakland at the Oakland County "compound". As we were leaving, I came across the following scene: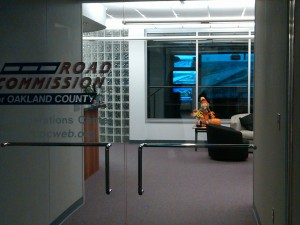 The televisions were MASSIVE, I don't think the picture above adequately represents the size. I was impressed the Oakland County Road Commission keeps an eye on traffic and what is happening on the roads.
So my Day 10 of 30 Days of Thanks is to all those people who work the "behind the scenes" jobs that keep us safe and keep our world flowing smoothly. I thank them for performing their duties in an ethical and responsible manner.
Day 9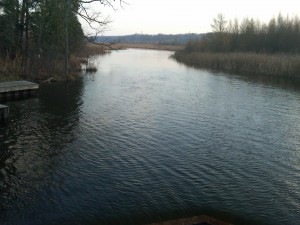 The Huron River at Proud Lake Recreation Area, Michigan.
I'm thankful on a regular basis for all our parks. State Parks, Metro Parks, Provincial Parks, National Parks, Federal Parks.
I use these parks a lot. There were I go when I need exercise and when I need a vacation but mostly there where I go when I need to clear my head and center my thoughts. Parks with their quiet solitude, trees, grasslands, lakes and rivers provide me a peace I don't find anywhere else. Thank you for protecting this land so I can enjoy it.