Show me the Cup Holders!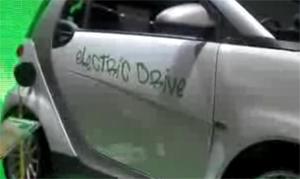 I am one of the women who takes cup holders into account when purchasing a car. I don't care very much about how many seconds the car takes to go from 0-60, I don't really care if it's got a HEMI in it. I expect whatever vehicle I consider to get my family from A to B and not cost a fortune in gas and maintenance. My priority is choosing a vehicle that has a comfortable interior space focused on sensible usability.
Now that I live in Detroit, Michigan, I decided I should expand my mechanical horizons and learn something more about my method of transportation. I headed downtown for my very first visit to the North American International Auto Show being held at the COBO Center.
The cars that initially caught my attention were defintely the sleek sports cars, beautiful, beyond my budget, and likely without a good cup holder.
Electric technology was definitely the focus this year and one presentation completely engaged me. It was for the Jeep Patriot EV, a "Range Extended Electric Vehicle."
I'd like to say it was the car that caught my attention but it was the presenter. She was one of the few "real" people I saw standing on the platforms. As a 40-something mother of two, I found it difficult to receive information from girls in tight dresses who hadn't been driving long enough to cycle through the lifespan of a car lease. I connected with this presenter in her jeans and blazer talking about being able to drive from Detroit to the Upper Peninsula for about $20.
The mesmerizing Lincoln light and video display guided me into their area and spoke to my love of technology through their Concept C car. The fact that I could verbally ask the car to read my email or check my schedule while driving raised my personal bar on necessary interior conveniences.
In conclusion, after visiting the auto show, I still don't care how big an engine is or what kind of status owning a particular model provides. After determining my price point, I want to know if a vehicle is safe. How will my family survive if we collide with an 18 wheeler on a freeway?
Then I'll be asking about the comforts of cup holders and interior technology.
What are your priorities when buying a new vehicle? Handling curves or handling coffee?